Hair Heat Damage. Let's face it, it is not a good thing. Once hair is damaged, there is a point of no return where all of the bond repair systems can only help so much.
The importance of heat protection:
The best medicine is prevention. It is better to stave off hair heat damage and eventual breakage rather than try to treat it after the fact.
Imagine taking a hot pan out of the oven without oven mitts – it's a recipe for disaster. Similarly, subjecting your hair to heat without protection can lead to damage and loss of vitality.
The best type of heat protection:
There are many types of hair hear damage protectants on the market today. Some are on the smooth side and some are on the sticky side. The products that have a stick and hold to them that protect from heat damage can make the hair have a gummy feel to it. Not to mention the build up they leave on your heat irons.
The 2 in 1 method:
In our opinion, the best types of hair heat damage protectant products are from the smooth category, specifically with a detangling aspect to them. Oway's has one called Thermo Detangling Cloud, which acts as your hair's protective shield, ensuring that styling with heat doesn't compromise its health. Comb through you hair and say goodbye to frizz and hair heat damage split ends, and welcome a new level of care for your precious locks. The 2 in 1? Heat Protection + Detangling all in one product.
The Science Behind the Cloud:
Welcome to a new era of hair care where nature meets innovation. If you're on a quest for the perfect detangling solution, your search ends here. Say hello to Oway Thermo Detangling Cloud (use code HHT1034 to save $5 with our referral code), a game-changer in the world of organic hair styling. Oway, a pioneer in organic hair care, has crafted a masterpiece in the form of Thermo Detangling Cloud. Powered by nature's goodness and backed by cutting-edge technology, the cloud is a testament to the brand's commitment to holistic beauty.
Ingredients Matter to prevent hair heat damage:
One of the standout features of Oway's Thermo Detangling Cloud is its commitment to organic and natural ingredients. Enriched with botanical extracts and plant-based elements, it not only detangles but also nourishes your hair. Free from harsh chemicals, GMOs, or synthetic fragrance, this cloud is a breath of fresh air for your locks.
Olive Pit Oil brings a safeguarding and hydrating impact, courtesy of the blend of polyphenols and fatty acids.
Biodynamic Eschscholzia (California Poppy) is renowned for its calming aspects for the hair and scalp.
Ethical Marula Oil provides hair with softening and moisturizing advantages. It is responsibly sourced through verified Fair Trade Networks, actively supporting the communities of South Africa.
How It Works:
The Thermo Detangling Cloud works its magic by harnessing the power of heat. Simply spray it onto damp hair before styling, and let the cloud do the rest. As the heat activates the formula, you'll experience effortless detangling, leaving your hair smooth, frizz-free, and ready for any style.
Versatility Unleashed:
Whether you're a fan of sleek straight styles or love the natural waves, this detangling cloud is your styling companion. It provides a versatile hold that lasts, ensuring your hair looks fabulous from sunrise to sunset. It is also easy to apply and distribute throughout the hair.
Why Thermo Detangling Cloud?
Organic Goodness: Immerse your hair in the goodness of organic ingredients.
Heat-Activated Magic: Experience the power of heat-activated detangling for smooth, manageable hair.
Nature's Nourishment: Nourish your locks with botanical extracts that promote health, vitality, and stop hair heat damage.
Versatile Styling: From casual to chic, achieve the style you desire with ease.
How to Use:
Wash your hair and towel-dry until damp.
Spritz Oway Thermo Detangling Cloud evenly.
Comb through for easy detangling.
Style as desired and let your hair shine!
Conclusion:
Elevate your hair care routine with Oway's Thermo Detangling Cloud. Embrace the beauty of organic styling, and let your hair radiate health and vitality. Visit the Holistic Hair Tribe (use code HHT1034 to save $5 with our referral code) to make this organic gem a part of your daily routine to stop and prevent hair heat damage.
Your hair deserves the best, and Oway delivers.
[Shop Now Button]
Note: Always perform a patch test before using any new hair care product.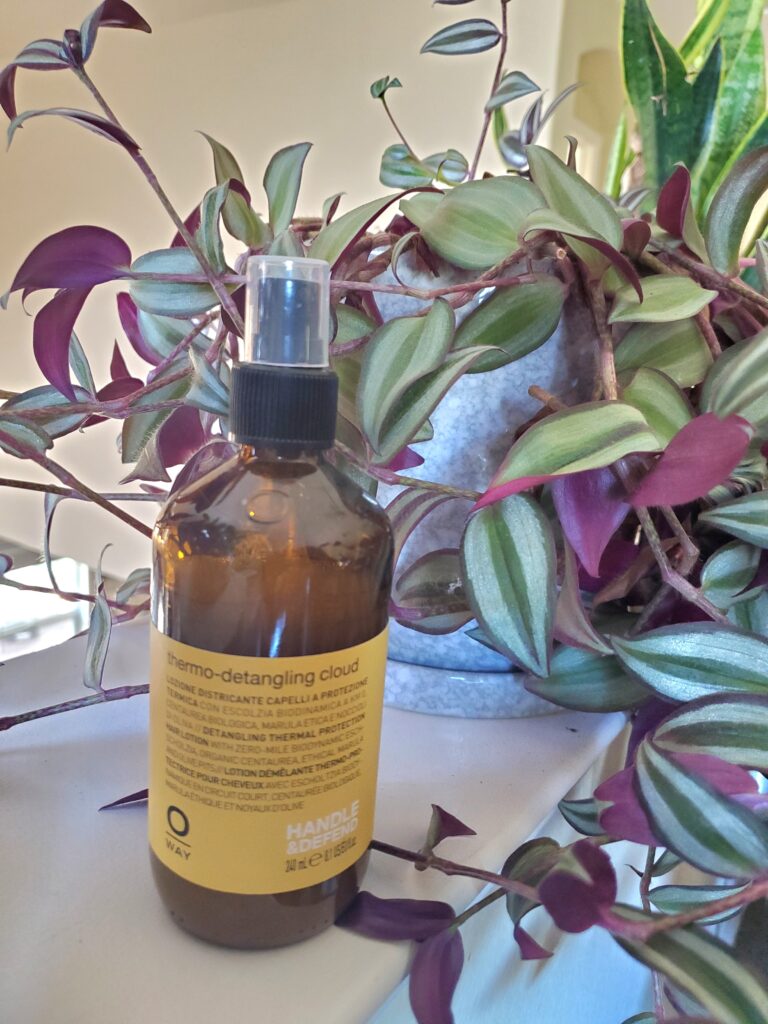 To learn more about Gluten Free Shampoo Click HERE